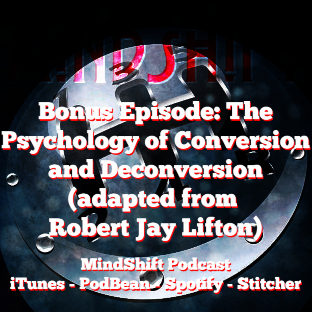 This special bonus episode draws upon the work of psychologist Dr Robert Lifton and his seminal 1961 work on the psychology of brainwashing, Thought Reform and the Psychology of Totalism: A Study of "Brainwashing" in China. 
In particular, I make use of Lifton's 12-step model to explore further the psychology of conversion, as well as what happens to a person who deconstructs his or her religious faith and leaves their church or cult group behind--the process of "deconversion," or spiritual transitioning.
This is a helpful discussion particularly for ex-evangelicals, but also for those who have left a cult. Unpicking the conditioning, and understanding how you were controlled and manipulated will help you reconstruct your sense of self--and your identity. 
Help Support the Ongoing Work of MindShift Podcast on Patreon!
http://patreon.com/mindshiftpodcast
Great resources on the MindShift Amazon Resource Page
http://preachersforum.com/mindshift-amazon-resource-page/
Follow Me on Twitter @MindShift2018